Tenant Responsibilities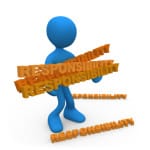 To ensure a smooth tenancy, landlords and tenants have certain duties and responsibilities. Some are legally required, while other are little more obvious and are more about good old fashioned respect and consideration.
The tenant agrees the following:
Pay the agreed rent on the agreed date
Pay the council tax
Pay all utility bills and TV licence
Use the property as a home, not a commercial business
Take good care of the property and it's fixtures and fittings
Make sure the property is clean and that all contents are left intact
Replace light bulbs and smoke alarm batteries and carry out general maintenance such as looking after the garden or other outside space
Keep the property secure at all times
Let the landlord or managing agent know of any repairs or maintenance needed on the property, as soon as it arises
Not to alter the property or garden/outside space in any way
Not to create unnecessary noise or disturbance to the neighbours
Pay compensation for any damage done to the property during the tenancy. Damage could include breakages or leaving the property in an unclean condition at the end of the tenancy.