Tenancy Agreement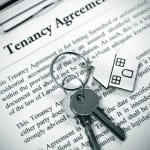 An Assured Shorthold Tenancy Agreement is a legal agreement in writing that sets out the rights and responsibilities of both landlord and tenant. It will contain details such as the length of the agreement, the rent payable, and what is and isn't allowed in the property, such as pets.
An ASSURED SHORTHOLD TENANCY AGREEMENT is the most common form of agreement.
This type of agreement applies to all tenancies created after 15 January 1989 where the annual rent is not more than £100,000 and the tenants are individuals, not companies.
The tenant has the right to live in the property for the agreed period, or until you as the landlord serve notice.
You have the right to end the tenancy by using a "section 21" notice. However, you must give the tenant at least two months notice before the end of any agreed fixed term.
A section 21 notice does not work in the first six months of the tenancy. However, you can issue a section 21 notice after the first four months, which allows for the required two-months notice period.
You can get your property back before the six-months fixed term ends if your tenant:

Hasn't paid rent for at least eight weeks.
Is causing a nuisance to the neighbours.
Has damaged your property (beyond usual wear and tear). Subject to obtaining a court order.
At the end of the agreed fixed term if the tenant stays on with the Landlord's consent, and the tenancy agreement is not renewed, it then becomes what is known as a Statutory Periodic Assured Shorthold Tenancy Agreement.
ASSURED STATUTORY PERIODIC SHORTHOLD TENANCY AGREEMENT The terms of the original assured shorthold tenancy agreement apply and are automatically renewed each "period" (normally each month). The landlord and the tenant both have the additional right to end the tenancy at any time by giving the required amount of notice.
CONTRACTUAL PERIODIC TENANCY This is when an Assured Shorthold tenancy is created with no initial fixed term. The tenancy runs on indefinitely until either the Landlord or the Tenant gives the required notice to the other. During a statutory or contractual periodic tenancy the landlord can normally increase the rent each year.
NON-HOUSING ACT 1988 TENANCY This type of agreement is less common and only applies:
To tenancies created before 15 January 1989, or
Where the annual rent exceeds £100,000, or
To company (corporate) lets.
During a statutory or contractual periodic tenancy the landlord can normally increase the rent each year.
Regardless of which status your agreement is in (fixed term or periodic), the landlord still has to give two months notice to the tenant and can't obtain possession (before 6 months of the tenancy agreement has elapsed) other than by satisfying certain of the prescribed grounds.
The following link may be useful www.gov.uk/private-renting-tenancy-agreements/overview